CREDIT IF REPOSTED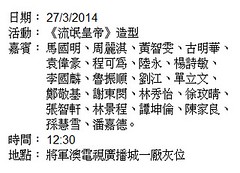 Date: March 27, 2014
Temporary Chinese title: 《流氓皇帝》
Pinyin title: Lau Man Wong Dai
Temporary English title: "The Misadventure of Zoo"
Producer: Poon Ka Tak
Attending Cast: Kenneth Ma, Niki Chow, Mandy Wong, Ku Ming Wah, Benjamin Yuen, Ching Ho Wai, Luk Wing, Harriet Yeung, Lee Kwok Lun, Henry Lo, Lau Kong, Pal Sinn, Joe Tay, Brian Tse, Kirby Lam, Kimmi Tsui, Russell Cheung, King Lam, Alan Tam, Kenny Chan, and Snow Suen.
Time: 12:30
Place: Tseung Kwan O TVB City Studio One
TVBE Clip
TVB8 Clip
- The series is a lighthearted comedy. Modern humour will be added in the series. The message the series reflects is that men are able to share adversity but are not able to share wealth.
- In June, there will be location filming in Foshan.
- Kenneth Ma will play Chu Kam Chun (朱錦春). He will appear in old age when the series begins, starting the series in reverse order. He pursues Niki Chow for the entire series. He is a rather honest and sincere and loyal man, but changes after becoming successful. He and Niki are a couple early on, but he is unfaithful to her after he strikes it rich, so they separate. He is a rather silly character who later accidentally becomes the emperor. In the end, when he becomes a beggar, he meets Niki again.
- Niki will play Yik Yung Yung (易蓉蓉), who is very simple and is very faithful to Kenneth, but he is unfaithful to her after he strikes it rich. She gets rejected by Kenneth and Luk Wing in succession. She will go from being ten-plus years old to 60-plus years old. She will perform classic songs. She and Kenneth have butterfly catching and dating scenes.
- Mandy Wong will play Ng Do Yu (吳多茹), Luk Wing's servant. She goes from being a servant to a spy. She has a crush on Luk Wing; she admires the fact that he takes care of her, as well as his love for his country. She will seduce someone in a reserved way.
- Ku Ming Wah will play Bat Ku Lo (八股佬), a cultured person.
- Benjamin Yuen will play Chu Cheung Fan (朱祥勳), a bandit who likes to cut wood. He and Kenneth are brothers (from the same father but different mothers). His mother is a matchmaker, but is unable to get a match for her son. He is popular among females, but they can only look at him from afar because, once they get close to him, they die; the only exception is Harriet Yeung, whom he has sparks with. In the end, he and Harriet get married.
- Luk Wing will play a revolutionary youth. He and Mandy will have a tragic love story.
- Harriet will play Lung Chuen Fung (龍川鳯), a bandit.
- Lee Kwok Lun will play Niki's grandfather.
- Pal Sinn will play Che Tai Pao (車大炮), a lustful warlord.
- Joe Tay will play Niki's husband.
- Tracy Chu will guest-star as a social worker in the '80s, bringing out the entire story due to taking care of Kenneth in old age. She will have scenes with the old Kenneth and Niki.
- Snow Suen will play Siu Wan (小環).
Visit @ TVBE Clip (051514)
Visit @ TVB Zone Clip (060214)
Visit @ Oriental Sunday Clip (061014)
Visit @ Next Clip (061214)
Visit @ GZTV Clip (061714)
Visit @ TVBE Clip (061814)
Visit @ J2 Clip (061814)
Visit @ "Scoop" Clip (062314)
FYI:
The official English title of this series is "Rogue Emperor".
Related post:
"The Misadventure of Zoo" Completion Banquet
Related post:
Kenneth Ma Wants to Kiss Niki Chow as a Commemoration
Related post:
Kenneth Ma's Request to Add Kiss Scenes Gets Rejected
Related post:
Niki Chow Kisses Kenneth Ma Eight Times
Related post:
"The Misadventure of Zoo" Blessing Ceremony
Personal Note:
Another bromance between Ma Ming and Benjamin?
Originally, the producer had planned to invite Louise Lee, who was in the original, to make a cameo, but dropped the idea in the end.
*Credits to kennethma.org, orientaldaily, orientalsunday, next, gztv, and Weibo